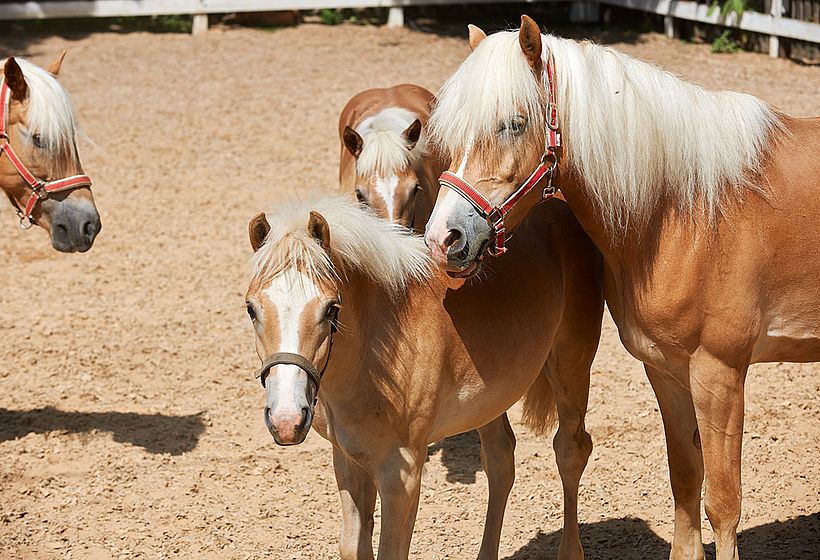 The blond horse with the golden heart
The HAFLINGER STUD FARM LIEBE SONNE in Sölden
The Haflinger horse is known for its lovable character, it is undemanding and well-balanced, and its sure-footedness makes it particularly suitable for mountain life. In the paddocks of the Haflinger farm LIEBE SONNE in Sölden, the horses are kept at over 1300 metres above sea level. In the summer our guests, both young and old, can look forward to riding adventures on horseback. Hotelier Michael Gurschler has been breeding the blond horses with the golden hearts since 1995.

In the meantime he has eleven horses to his name and looks back on his breeding experience with a loving smile. The Haflingers of the HAFLINGER STUD FARM LIEBE SONNE all come exclusively from Tyrol. On the horse farm in the middle of Sölden, the horses are professionally cared for: Bernhard is responsible for the farm. The grooms Jasmin, Simone and Lisa feed and water the horses, clean the stable and paddock and look after the equipment. They also do the bridling, saddling, harnessing and tacking up of the horses.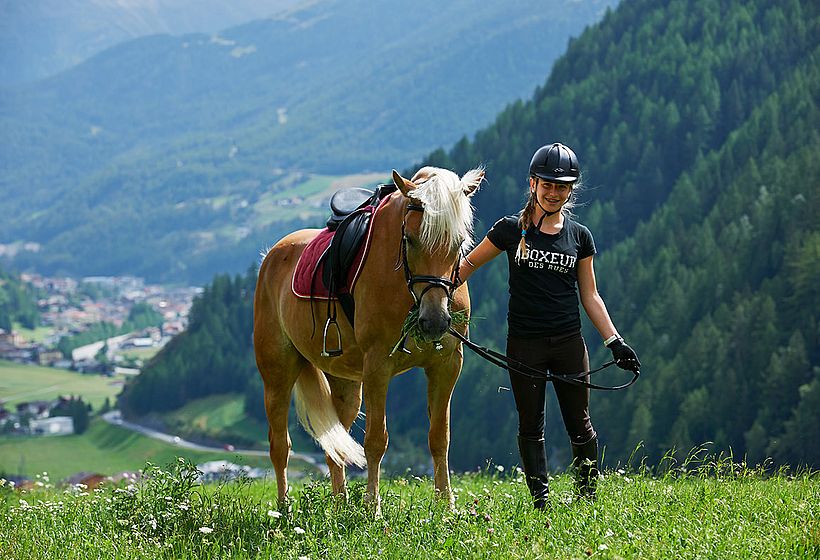 Hotel with riding opportunities
Riding holiday in the HOTEL LIEBE SONNE in Sölden
Whether young or old, horse lovers can look forward to many encounters with the Haflingers during their holiday in the LIEBE SONNE in Sölden: The HAFLINGER STUD FARM LIEBE SONNE offers everything from stable visits – where you are welcome to join in – to riding lessons on the line and rides for the more experienced riders. Our hikes with horse accompaniment, where the horses can be ridden in turn are particularly popular.


With the sun in your heart.
Are you on your way to us?
In the HOTEL LIEBE SONNE in Sölden you find your slice of happiness.