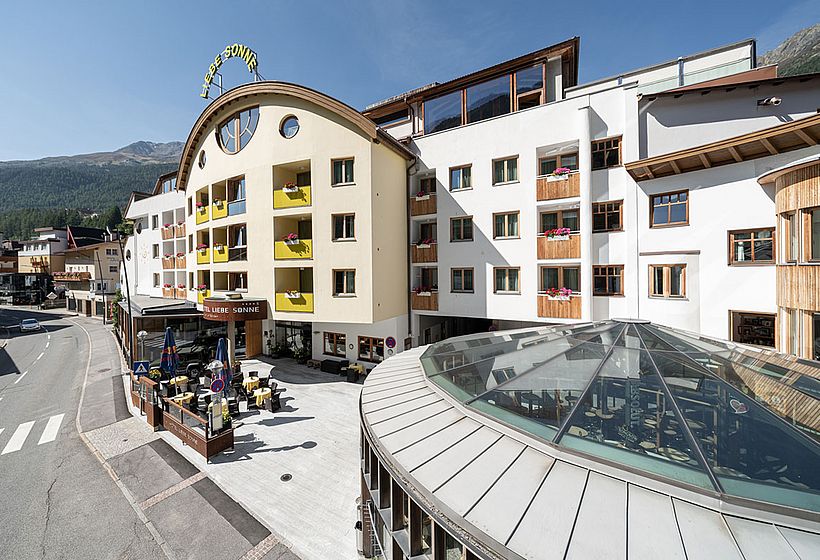 The heart of Sölden
4-star superior hotel close to the Giggijoch gondola
The HOTEL LIEBE SONNE is situated in the centre: In the centre of the village, at the heart of Sölden! But still guests can ski on the valley run directly behind the hotel. The base station of the Giggijoch gondola and the slopes are our direct neighbours. Nature and action are so closely linked in Sölden! In the winter months the gondola carries you up to one of the largest ski resorts in Austria, in summer you are whisked up into a real hiker's paradise.

Surrounded by the high mountains of the Ötztal, Sölden lies nestled in the valley: By car, the journey on leaving the A12 motorway in the Inn valley takes approx. 40 minutes. You can park your car in our underground garage, where you can leave it for the duration of your stay in the HOTEL LIEBE SONNE in Sölden. Sölden is easy to reach on public transport. By train to Ötztal Bahnhof, then by public bus. The bus stop is a few metres away from the hotel.
Discover. Experience. Relax.
Attractive offers for your stay in the HOTEL LIEBE SONNE in Sölden
With the sun in your heart.
Are you on your way to us?
In the HOTEL LIEBE SONNE in Sölden you find your slice of happiness.
Unique experience in the Ötztal
PURE MOUNTAINS

The Ötztaler Alps make up a fantastic back drop for your mountain holiday in the Tyrolean Alps! Can you hear the mountains calling? Then follow the calling, come to Sölden and climb the 3000 metre summits of the Ötztaler Alps. Experience the pleasure of the peaks. A hiking holiday in Ötztal promises you a relaxing time surrounded by unspoilt nature. We have wide mountain tracks for leisurely family walks and the picturesque mountain huts for refreshments. And we have steep narrow pathways over gravel and scree, the challenging tours to the highest peaks. You choose according to fitness and ability! You are welcome to accompany our mountain guide on a tour. A hiking holiday in the HOTEL LIEBE SONNE is always a great choice.

SHOW DETAILS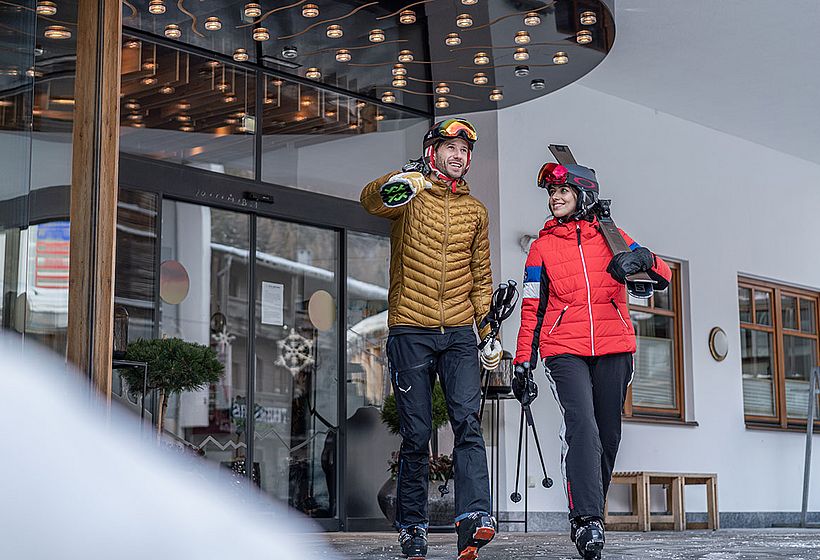 ADVENTURE ON THE SLOPES

Snow as far as the eye can see? That must be a holiday in the Ötztaler Alps! Take the gondola up to the viewing platforms of the Big 3 – no less than three 3000 metre high peaks can be found in the ski resort of Sölden. Views from the top stretch over a sea of summits. Followed by the descent on skis over perfectly groomed slopes! Whether blue, red or black – the ski resort of Sölden has the perfect slope for every ability, beginner, and intermediate or advanced. The variety is what makes our resort so special. For exceptionally athletic guests the resort has several highlights to offer, one of which is the World Cup race slope. Ski on the heels of your skiing heroes and stay in the HOTEL LIEBE SONNE. Champions stay in our house – a ski holiday in our family run 4-star-superior hotel is always a winner!

SHOW DETAILS
Liveliness and joy of life

The liveliness and joy of life can be felt throughout the HOTEL LIEBE SONNE. The LIEBE SONNE is more than a logo, and much more than a motto that accompanies us each day. We work with so much love for our guests and what goes with it. You can feel the difference. We want to preserve the radiance of our inner sun. We also like to inspire our guests with our positive attitude to life. Sölden is the perfect place to experience original and genuine joy. Enjoy the smell of unspoilt nature, the taste of our wonderful gourmet menu and the sound of wild nights of cool drinks and great music! Enjoyment using every one of your senses relish every moment! We are looking forward to your time-out in the HOTEL LIEBE SONNE in Sölden.

SHOW DETAILS
"It is said that love grows at a distance:
The HOTEL LIEBE SONNE will convince you up close!"