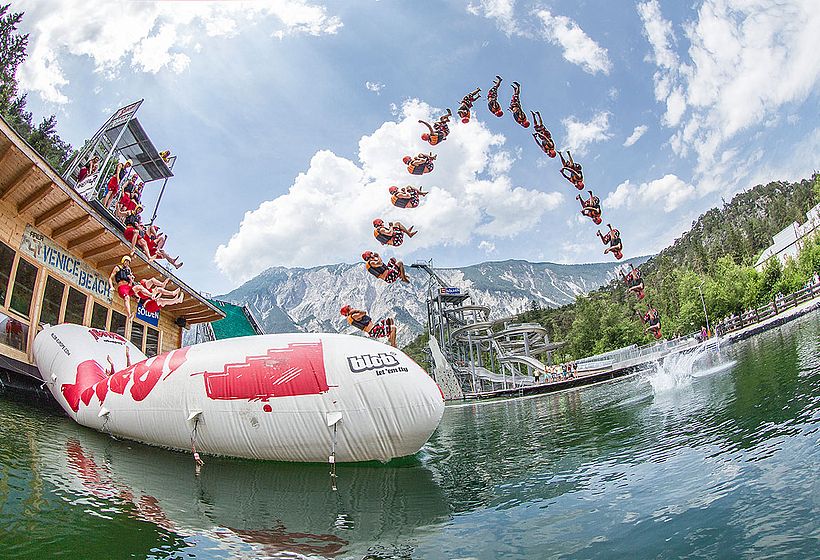 Summer experiences
Other things to experience in the Ötztal…
The Freizeit Arena in Sölden has a wide range of activities on offer, alongside the tennis hall, bowling alley, natural ice rink in winter and a fitness studio, the Freizeit Arena in Sölden also has an adventure swimming pool, sauna area and solarium. The Freizeit Arena Sölden is approx. 350 m away from the hotel.

The Area 47is Austria's largest outdoor park and known well beyond the Austrian borders. For those looking for the ultimate action and adrenalin kick they are in the right place. What's on offer is amazing! Spread over an area of 6,5 hectares, there is one highlight after another: Water area with a swimming lake, cliff diving, water slide park, water ramp, blobbing, an outdoor area with climbing walls, rafting, canyoning, MTB downhill free-ride, flying fox and an off-road area with KTM MX free-ride, cross buggies, a food area and lots more.

The Aqua Dome Spa in Längenfeld is the ideal destination for pleasure seekers. A relaxing water world, a sauna area covering more than 2000 m², and numerous beauty and wellness treatments await you. Treat yourself to a wellness day in Längenfeld!

The Ötztaler outdoor-course is a high rope climbing garden, allowing both young and old to take part in an exciting adventure. About 30 minutes' drive.
Entdecken. Erleben. Erholen.
Attraktive Angebote für Ihren Aufenthalt im HOTEL LIEBE SONNE
With the sun in your heart.
Are you on your way to us?
In the HOTEL LIEBE SONNE in Sölden you find your slice of happiness.